this programme is
for you:
If you are 6 weeks postpartum and have clearance from your OBGYN to begin gentle exercises
have diastasis recti or weakened abdominals ("mommy tummy")
Experience dribbles or leaking
suffer from pelvic pain, low back or hip pain
had a baby 1 yr, 5 yrs or more and are still experiencing core weakness and/or leaking
you want to flatten your tummy and improve your posture
are new to exercise and don't feel ready for an intensive training programme
want to manage stress better
you want to feel strong & confident in your body
Join Post-Baby Core Restore TODAY!
*No special equipment required and the workouts can be divided throughout your day or done in one go!
One time Payment of 89 euros
Have more questions? Visit the FAQ section
DISCLAIMER: The participation of this programme is at your own risk and does not replace the advice from a medical doctor or other allied health professional (physiotherapist or other). Amanda Isaac Coaching cannot be held responsible for any injury or worsening of any conditions that may arise from performing the exercises in this programme. Read more
ALL SALES ARE FINAL. This is a digital product it is not eligible for return or refund.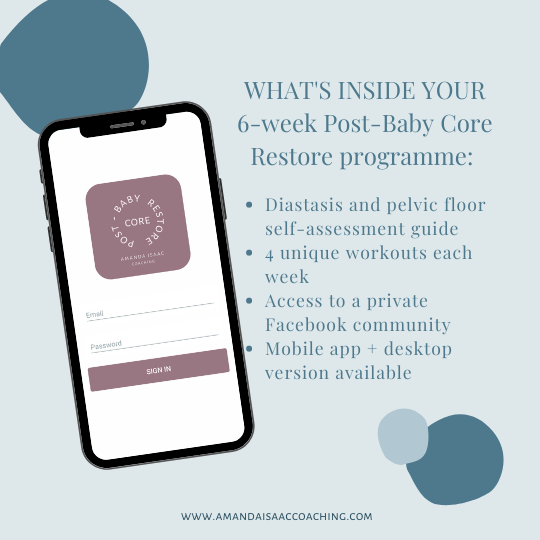 I am ready to get started!
create your account & go to payment
* After signing up you will receive an e-mail with your login information. Be sure to check your spam folder.