Reading Time:
8
minutes
Recovery For The Postpartum Woman
6-weeks to put an end to leaks, pelvic pain & mommy tummy with
Peeing when you laugh, cough or sneeze
Sudden urges to pee
Passing gas involuntarily
Painful sex
Pelvic or pubic bone pain
Backaches & tailbone pain
Shoulder tightness
Tight hips
Weak abs or abdominal separation (diastasis recti)
I was naive! I was a maternity and community health nurse who had spent countless hours supporting mothers in their postpartum period.  I was sure that I understood enough about what would or could happen after I gave birth.
We are told all these stories or have witnessed our own mothers and grandmothers "accidentally" peeing their pants. I know my grandmother would always have to brace herself when we would be having a laugh together.  I really thought I had it all covered.I had a healthy and uneventful pregnancy.  I was exercising in the gym and running into my 3rd trimester.  At birth I did have a 2nd degree tear but my scar healed up quickly.  I was so very wrong to think that my body was "back to normal" at 6 weeks postpartum.  I began running again as if all was back on track.  It was a mistake that took me many many months to recover from. It took a lot of trial and error after not finding the support from physiotherapist or my doctors.  I had to find a solution on my own.  
This why I created Post-Baby Core Restore, so that I could support other mothers who feel the way I felt.
Let me say it before you do!
I DON'T HAVE TIME!!!!!
This is probably THE MOST COMMON phrase I hear from the moms that consult with me. 
I totally understand what it is like to be up against the clock every day. I had two kids under 2!!!  It was NOT EASY!
I designed this programme to be flexible!
Split the workouts into 2 sections if that is what you need to do.
You have a mobile friendly access to the course that is with you anywhere you go
I've worked with some moms that would do a set of exercises lying on the floor next to the baby's cot until the baby fell asleep. Others have confessed that they have done them from the couch while watching netflix after the kids have finally gone down for the night. 
Why should postpartum care end at 6 weeks?
The average woman only receives only 1 postpartum check-up!!  To me this is still shocking. I remember how my body felt at this time, and it wasn't ready for "all the things".
This 6-week magic mark is the time where you are medically cleared to resume your life "as normal". Get back to exercise, have sex and fit into your old jeans.
The truth is most women do not feel ready…
Some moms may be experiencing pain or discomfort from scars (episiotomy/tears or c-section)
Some are feeling tired and exhausted while they are adjusting the motherhood
Some feel like their bodies are not their own anymore
Some may be experiencing baby blues or early signs postpartum depression or anxiety
What I think should happen:
I believe that all moms need continued support through their entire year postpartum.  There are so many changes that occur in this period. Baby is growing fast, sleep is not guaranteed, life's responsibilities etc.
Post-Baby Core Restore is not only there to support your with your physical recovery but it is also there to support your with your mental and spiritual wellbeing.
I have designed this programme with you in mind. I know time is precious and you might feel tired or overwhelmed and this is why I've made it as simple and straight forward as possible without compromising on results.
Build Back Stronger with Post-Baby Core Restore!
I will guide you through the exercises that I personally used to recover after both my pregnancies. Every week has been carefully planned to build a solid foundation.
Each week you will receive 3 (+ 1 BONUS) workouts.  They can be completed in 1 sitting or split into 2 throughout the day.
Build awareness around your breathing patterns, identify areas of limited mobility.  Your breath is connected to your whole body. This week is by far the most relaxing.  Breathing not only reduces stress but if done correctly can open up space and allow your muscles to move more freely.
Understand how your posture can influence your well-being. Awareness is always the first step, if you can help your body to find a more optimal position it can begin to support you better.
Feel more in tune with your body and her needs. Feeling a deeper connection to your body's strength and weaknesses are key to being able to progress.  This is a more general program but as you build a better understanding of your needs you can apply what you learn to build a strong foundation.
Build your foundation and rebuild from your pregnancy and birthing injuries. With a better awareness of your body you are able to give extra care to the areas that need it.
Strength and endurance will come with your commitment. Continuing to build on each exercise week after week and you will begin to reap the benefits.
Begin to prepare your body to return to more active movements.
THIS IS NOT A DIET PLAN!
In this guide I will review some basics about nutrition and some handy guides that can help you understand portions.  It is meant to support you in living a healthy lifestyle and not send you on a crash diet.  
BONUS 2: Goal Setting Guide
It has been proven time and time again that the only way to achieve a goal is to get really clear about what it is that you want and how exactly you will achieve.  This guide will walk you through the steps needed to set realistic and attainable goals!
Who Is This Programme For?
If you are 4-6 weeks post vaginal delivery or 10-12 weeks post c-section and have no contraindication to begin gentle movement from your midwife or doctor.
have an abdominal separation ("mommy tummy"/diastasis recti) or feel like your abdominals are weaker.
Experience dribbles or any degree for urine leaking (incontinence).
Have been incontinent of stool.
Feel heaviness or a bulging sensation from your vagina or rectum.
have pain on or around your pubic bone.
Suffer with pelvic, low back or hip discomfort/pain.
Or you simply want to be mindful of your body and prepare it for a return to sport /or prevent future complications.
Had a baby 1 yr, 5 yrs or more and are still experiencing any of the symptoms listed.
Pre/menopausal and are interested in preventive exercises that will keep your quality of life through your later years.
You want to flatten your tummy and improve your posture.
Are new to /or are returning to exercise and/or don't feel ready for an intensive training programme.
Want to manage stress better
You want to feel strong & confident in your body.
Join Post-Baby Core Restore today!
Once you sign up, you will receive an e-mail  that will include:
Instructions on how to login to your account so you can acces: Your diastasis and pelvic floor self-assessment guides & 2 BONUS Guides
Your invitation to the members only Facebook group.
On the course dashboard you will find your classes and an attachments for download. There are 4 weekly,  it is recommended to do them workouts every other day. The best part is that the classes are FLEXIBLE, you are free to do them when it suits you.  You can also split the workouts into 2 when you feel short on time.  The goal is to be as consistent as possible and if that means shorter but more frequent, that is OK!
Each workout contains short video clips and written descriptions of each exercise for you to follow along.
Progress check-in each week, you can e-mail your feedback so that I can support you through your journey.
How long are there workouts? Each workout includes 4-6 exercises and range in length of 20-30 minutes.
Is this a weight loss or fitness plan? No, this is a recovery programme.  There are specific exercises that are aimed to heal and/or reduce symptoms related to diastasis recti and pelvic floor dysfunction. Do not expect any fad diets here!
Can I condense the programme and get through it more quickly?  No, this is NOT a QUICK FIX!
I am unable to perform the more advanced exercise progressions, what should I do?
If you do not yet feel ready to advance you can repeat the week that you just completed and re-assess your progress at the end of that week.
What are some of the benefits? Most women report feeling more relaxed during the first week.  There is a big focus on breathing and that lends itself to relaxation.  Women who have gone through the programme have felt:
Reduction or elimination of dribbles or leaking of urine.
Closure or reduce "gap" in the abdominals.
Improved posture
Increased strength through the deep core muscles (back, abdominals, pelvic floor and hips).
What are you waiting for?
You are only a few steps away to empowering yourself with the tools to build strong foundation!
"My pelvic floor was in pretty rough shape after my third baby, and I can honestly say that your 6 week program saved me (and cured my incontinence). I also had no idea how weak my core had become post-partum, and I'm happy to report that I have strong abs again, thanks to you. I found the short exercises to be very approachable, gentle and quite manageable, even with three kids. I didn't always complete all the repetitions for each exercise, and some days I did nothing at all, but even with that I saw great results. The videos/instructions were clear, and I especially liked using the app on my phone."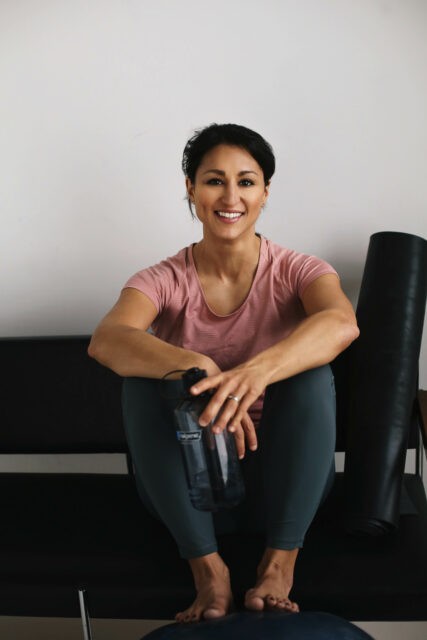 I'm Amanda Isaac, Mother, Nurse, Pre/Postpartum Corrective Exercise Specialist and Certified Personal Trainer.
Originally from Canada, I have been living in Munich, germany for over 7 years with my husband and two children (7 & 5 yrs old). 
My first area of interest after completing my nursing studies was maternal child care. I worked for 2 years on the postpartum ward helping new moms in their first hours after giving birth. I followed this clinical work experience with community health & Maternal child Care in remote northern communities of the James Bay, Quebec. 
Moving to Germany with my family meant changing career paths. It was not one that was easily accepted and I fought hard to find a way to blend my professional experiences to create a new way forward. My principle interest has always been supporting the health and wellness of women.  I journeyed into life coaching and personal training as a way to continue my mission. Helping mothers navigate not only the physical changes brought on by pregnancy but being able to offer support and guidance through the postpartum period.
Creating the "Post-Baby Core Restore" programme is somewhat of a full circle moment for me. I originally began my University studies in the field of Athletic Therapy. Having always been an athlete growing up and wanting to be able to help people, it felt like the right fit. I wanted to understand how the body worked and performed. This programme combines my clinical experience working with mothers and children with my understanding of how to apply exercise as a tool to heal the body. With this programme I was able to resolve my own postpartum issues. I am happy to share this with other mothers and enable them to feel empowered and confident!
Only One Payment of 79 euros
DISCLAIMER: The participation of this programme is at your own risk and does not replace the advice from a medical doctor or other allied health professional (physiotherapist or other). Amanda Isaac Coaching cannot be held responsible for any injury or worsening of any conditions that may arise from performing the exercises in this programme. Read more
ALL SALES ARE FINAL. This is a digital product it is not eligible for return or refund.