My Top Early Postpartum Exercises
You don't have to just "accept it"
I have met with so many women who thought that they would have to accept that these changes are forever part of them.  This is not the case. Perhaps not everything is an easy fix but many if no most can be address with the right guidance and persistance. This is why I want to share my top early postpartum exercises with you!
Things are changing, women are becoming more aware of what is "normal"and "NOT normal" after giving birth.  They are taking ownership of their own health, asking questions to their care providers, doing the research and understanding that there is a need for a better standard of care.
Raising the bar of postpartum care is my mission. Women do not have to simply "live with it".  We can do so much better than that!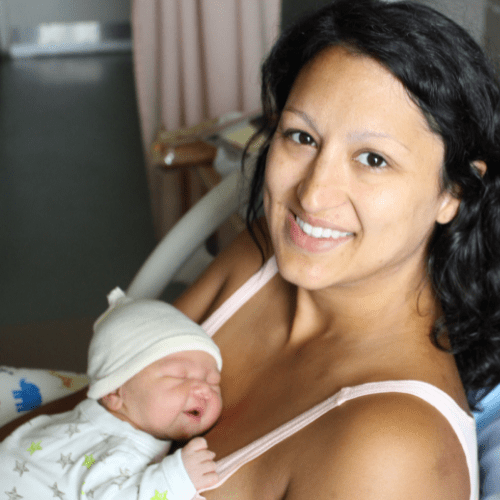 I am sharing my top exercises
It isn't always one size fits all…BUT! The following exercises are what I deem to be excellent "all around" solutions for many of the postpartum issues women face such as; involuntary leaking, pelvic heaviness or pain, weak abdominals that give that little pooch that never seems to want to go away. 
I know that you are short on time so I will cut straight to the chase!
My recommendation would be to start approximately 4-6 weeks postpartum (provided you have not experienced any after birth complications).  If you are unsure if these are right for you, discuss them with your Midwife, OBGYN or get in touch with me.
DISCLAIMER: These exercises are done at your own risk. READ MORE HERE
Lie on your back in a relaxed position with bent knees
Place your hands comfortably on your belly
Inhale through your nose
Fill your lungs all the way to the bottom
Feel your chest and abdomen rise together
Notice if your ribs and back expand with each breath
Exhale slowly and completely
With each exhalation you should begin to feel your deeper abdominal muscles activate while you empty your lungs
Repeat 5-10 times
Lie on your back in a relaxed position.
Relax your jaw, neck and shoulders.
Inhale and imagine your pelvic floor lifting up as if it where an elevator.
Raise it to the 1st floor (level of the pubic bone)
Raise if to the 2nd floor (level between pubic bone and navel)
Raise it to the 3rd floor (level of the navel)
Relax and fully release the pelvic floor before beginning again.
Repeat 5-10 times
Lie on your back with bent knees.
Place sliders or a small tower under your feet.
Tuck your tailbone under so that your lower back is touching the floor.
Engage your core and lift your pelvic floor upwards.
Slide one foot out while keeping contact with the floor at all times.
Slide your foot back to the start.
Alternate sides.
Repeat 10-15 times per side
Lie on your back with your arms and your legs straight up towards the ceiling.
Bend your knees at a 90-degree angle.
Lower leg toward the floor slowly and with control.
Return to center and then repeat on the other side.
Repeat 10-15 times per side
Practice these simple exercises 3-4 times per week.  When you are ready to dive deeper into your recovery get started with the full programme below!
Fitness & Recovery for The Postpartum Woman
Eliminate leaks, pelvic pain/painful sex & mommy tummy in 6 weeks with the Post-Baby Core Restore APP.
Have you experienced any of these symptoms?
Peeing when you laugh, cough or sneeze
Needing to pee all the time
Passing gas involuntarily
Painful sex
Pelvic or pubic bone pain
Backaches & tailbone pain
Shoulder tightness
Tight hips
Weak abs or ab separation (diastasis recti)